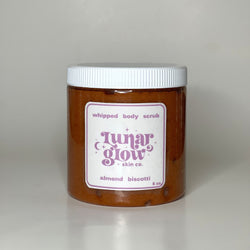 Lunar Glow Skin Co.
Almond Biscotti Whipped Body Scrub
Buff away dry, dead skin with our plant based body scrub to reveal your glowing smooth skin! You control how you want the exfoliation to be, simply use less product for less exfoliation and more product for more exfoliation.

Ingredients: Saponified Organic Olive Oil, Saponified Organic Coconut Oil, Saponified Organic Sunflower Oil, Organic Aloe Vera, Organic Shea Butter, Deodorized Cocoa Butter, Jojoba Oil, Vegetable Glycerin, Rosemary Extract, Citric Acid, Liquid Colorant, Sugar Cane, Fragrance Oil
For external use only. Discontinue if irritation occurs.
This product has not been evaluated by the Food and Drug Administration and is not intended to diagnose, treat, cure, or prevent any disease.